Working together to connect the world
Travel adapters ensure that people can power their devices anywhere in the world. Swiss manufacturer WorldConnect AG wanted to increase its delivery speed for these products and get closer to its customers, so the company partnered with DACHSER to reorganize its logistics.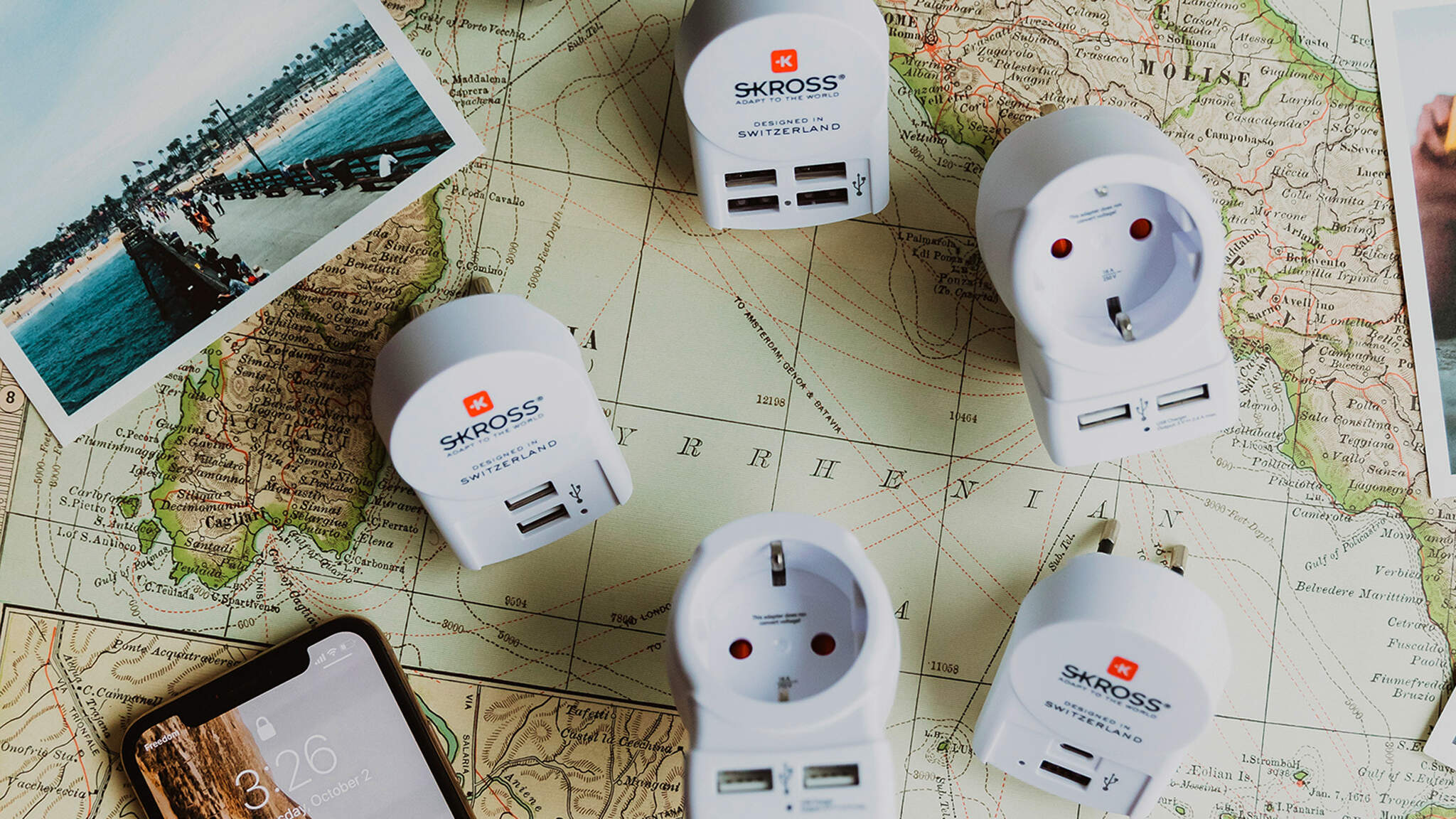 It's something that international business travelers and globe-trotters should never leave home without. The realization that they've forgotten to pack the travel adapter tends to come once the battery in their smartphone, laptop, or electric toothbrush starts to die. Many countries means many different standards, which is why not every plug fits every outlet. Travel adapters solve this problem.

Based in Switzerland, WorldConnect AG is the world's leading premium manufacturer of these little helpers. Under the SKROSS brand, the company markets high-quality adapters featuring the patented sliding system for use in over 150 different countries. The top sales venues are duty-free shops in airports all over the world, as well as in-flight shops and retail stores. WorldConnect AG's range of products and travel accessories also includes power banks, USB chargers, and many other charging and sync cables.

The products are themselves well traveled, covering great distances to reach the points of sale. Take the travel adapters: they are manufactured in Thailand by WorldConnect AG's former parent company Noventa, and once assembled, they usually make their way to Europe by sea.
Back in 2015, DACHSER Air & Sea Logistics Switzerland began moving the occasional shipment for WorldConnect AG, especially sea freight from Asia to Europe. This yielded positive experiences worth building on: since January 2020, DACHSER has also been managing the warehousing and distribution of the goods in Europe directly from the port of Hamburg.

"For WorldConnect AG, we developed an integrated concept that covers a range of logistics services," says Samuel Haller, Country Manager Air & Sea Logistics DACHSER Switzerland, who has been looking after this customer since day one. He points out that coordinating intercontinental supply chains with different carriers, locations, and contacts in each country is a complex business.
"It's definitely better to know you have a logistics partner close by who can solve your problems and, most importantly, you can have personal contact with."
Christian Ernst, Co-CEO of WorldConnect AG
This complexity is also reflected in the sheer number of DACHSER locations involved. DACHSER Thailand's sea freight export department is responsible for organizing the export of the travel adapters: pickup from the factories in Thailand, customs clearance, and loading onto the ships bound for Europe. "By consolidating the various tasks, we offer the customer efficiency and transparency," says Jesper Larsen, Managing Director Air & Sea Logistics South East Asia at DACHSER. "Since DACHSER Thailand also coordinates goods pickup, we have a seamless connection to DACHSER's European overland trans-port network." Once they reach Hamburg, DACHSER collects the goods and transports them to a warehouse in the port. "It all runs like clockwork," Larsen says.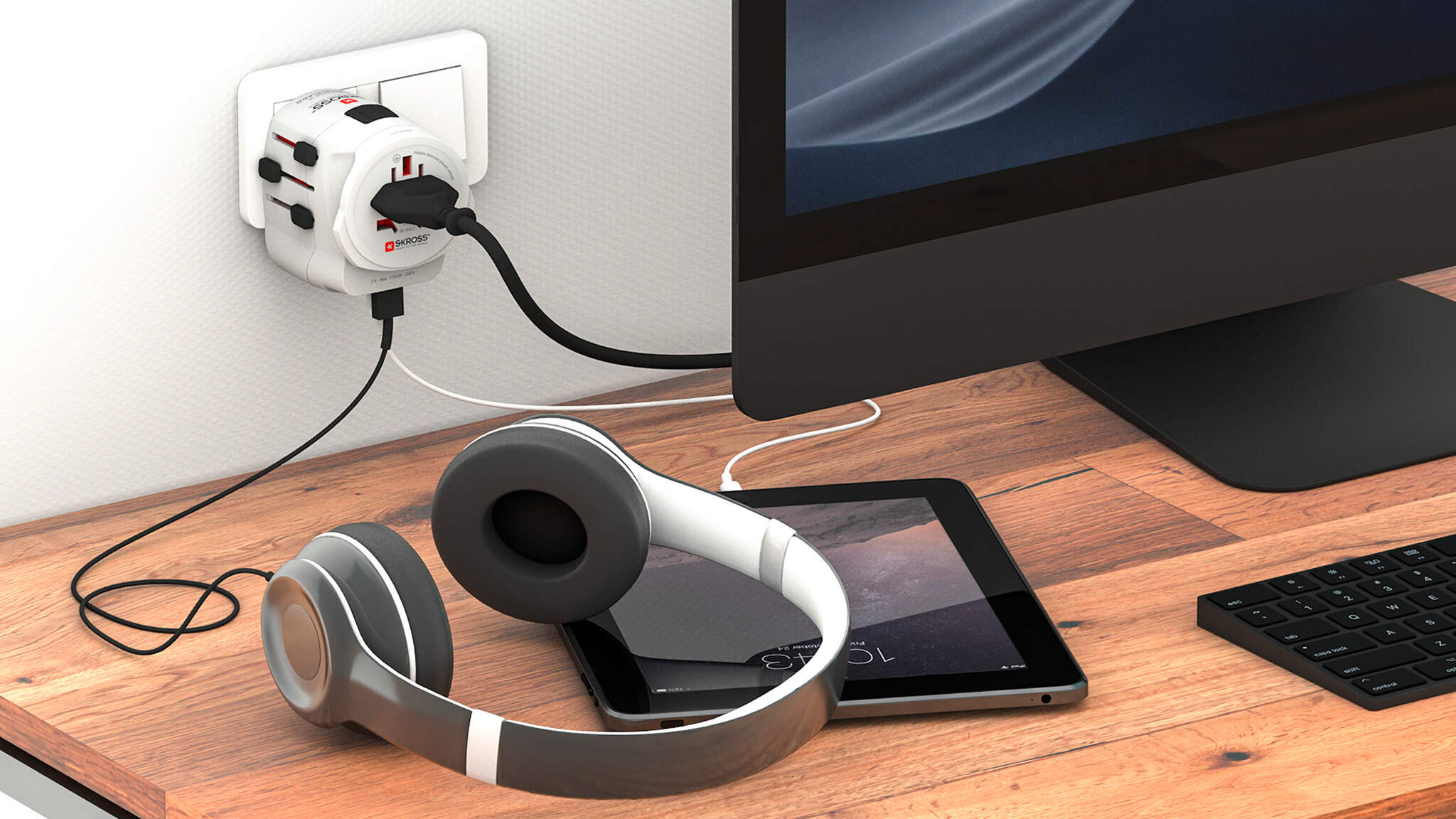 Adding value
In the warehouse in Hamburg, DACHSER carries out several value-added services. Cartons—either stowed separately or in some cases stacked on industrial pallets—are unloaded and arranged on euro pallets.

Most of the shipments will be transported later via DACHSER's overland transport network and by courier, express, and parcel services to more than a thousand SKROSS sales venues throughout Europe. A small proportion of the products will leave Hamburg again by sea, bound for other continents. "Close interaction between our different logistics disciplines enables us to meet the challenges posed by the disruption to the global supply chain," Haller says. He adds that the pandemic in particular is responsible for massive delays in supply chains. Ralf Hansen, General Manager at DACHSER in Hamburg, agrees: "The only way to offset these is to dovetail services—that's how we maximize efficiency." Hansen supervises the organization of warehouse services and overland transportation.

Haller and his team are in charge of overall management of DACHSER's side of the operation. "Sometimes you have to work with people who you've only ever spoken to on the phone because they're based hundreds of kilometers away. But it's definitely better to know you have someone close by who can solve your problems and, most importantly, you can have personal contact with," says Christian Ernst, Co-CEO of WorldConnect AG.

Proximity was yet another argument in WorldConnect AG's decision to enlist DACHSER's help to reorganize its logistics. The warehouse's location within the port of Hamburg eliminates unnecessary journeys and speeds up deliveries. "By moving the warehouse from Austria to Hamburg, we were able to achieve not only considerable cost savings in container delivery but also a noticeable reduction in WorldConnect AG's carbon footprint. Thanks to DACHSER's European groupage network and its global air and sea freight networks, we've also improved our transit times," Haller says.

"Now that the products arrive in the warehouse several days sooner than before, they also make it to the customers faster," Hansen adds. This is particularly important when dealing with premium products. "Our goal is to offer our customers a higher standard than for mass-produced goods—and that includes the logistics," says Violeta Radisavljevic, Head of Supply Chain at WorldConnect AG. She also notes that the collaboration with DACHSER has thus proved to make strategic and ecological sense. Haller adds: "Both companies have set themselves the goal of connecting the world while delivering top quality." They are working together to make this a reality.